Reverse Osmosis Water Purification System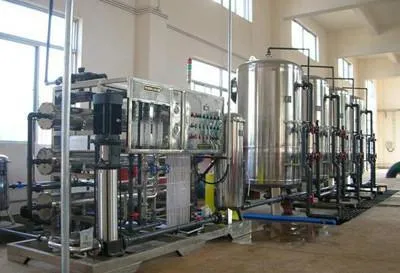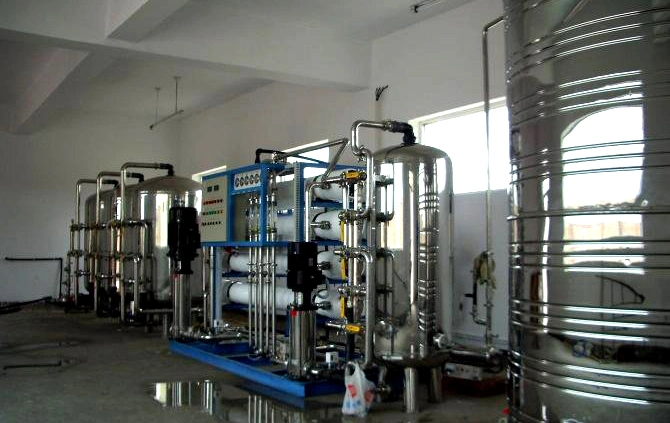 Description:
Silica Sand filter
When the water through the machine, it machine will stop suspend substance through the good quality silica sand. and also protect the following machines and also clean the water this machine can achieve the back washing itself through the manual valve device, and can prolong the life of machine also.
Active carbon filter
This equipment can clear away heterochrosis and off-favor from the water and can remove heavy metal such as mercury,lead,cadmium,zink iron,maganese and hromium and hydrogenate,sulphide and so on.It also could remove hydride,sulfuret and so on macromolecular compound ,then make the water asepsis and sans taste.we could use manual working vlave to finish reverse washing.
Rubber Linning
with the Vulcanized rubber(thickness 3mm) ,it can prevent of corrossion
Precision filter
This machine is made of stainless steel as a small tank which contains precision filter membrane, cut-off mechanical impurities and particles greater than 5μM leaks from preposing equipment and pipeline
Reverse Osmosis
The device's key part is reverse osmosis membranes that is from the America, it has a good performance to eliminate salts and the high pressure pump is from a high quality pump producer in China, it's easy to handle for its simple structure. The source water, in the case that the conductivity is less than 500us/CM, can reach the national standards totally after treatment by this device, it's the most ideal equipment for water treatment.
Characteristic:
RO:reverse osmosis selected Dow aromatic polyamide membrane BW30-365 and supporting material of glass fiber reinforced plastic pressure vessels dedicated RO membrane element 18, sub-3 installed in pressure vessel, the installation water production quantity is 20.0m3 / h , water recovery rate is 70%, desalination rate is 97%
UV sterilizer machine
The products adopt a high-intensity, long-lived UV germicidal lamp, the device is reasonable, compact, and adopts the structure of secondary disinfection, so health indicators completely according to the state standard.
Ozone generator
Four connections installed on the ozone generator: air inlet:/Ozone outlet/chilling water inlet/chilling water outlet
Flow chart: (Pure water filling machine):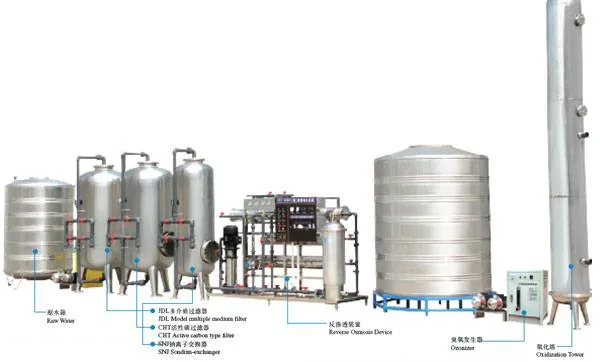 1> Imported RO membrane;
2> High-pressure pump;
3> SS 304 bracket, pipe U-PVC engineering plastic pipes, pressure 25KG/CM2
4> Instrument Control Cabinet;
5> Automatic flushing system, imported solenoid valve actuator
*Technical parameter
Model
Productivity(T/H)
Power(KW)
Recycle Rate(%)
One stage output water conductivity(μs/cm)
Two stage output water conductivity(μs/cm)
Raw Water Inductivity (μs/cm)
JRO-0.5
0.5
1.5
50
3~8
2~3
≤300
JRO-1
1.0
1.5
50
JRO-2
2.0
1.5
70
JRO-3
3.0
2.5
75
JRO-5
5.0
5.5
75
JRO-6
6.0
5.5
75
JRO-8
8.0
7.5
75
JRO-10
10.0
7.5
75
* Packing:
1> Outer packing: plywood case
2> Inner packing: PE film wrapping overall
*Shipping:
FOB port: Guangzhou or Shenzhen
* After-sales service:
1> one year from date of delivery, if any spare parts be broken within warranty and not caused by improperly operation, we would offer the new parts for free.
2> Provide professional after-sales service engineers to abroad installation and debugging.
*About us:
We are a professional manufacturer of cosmetic,chemical& pharmaceutical machinery and equipment more than 17 years .Product lines range from:
1> Cosmetic Machinery: water treatment ,vacuum emulsifying machine,liquid detergent mixing machine,storage tank,solid soap making machine,perfume making machine, filling machine etc.
2> Chemical Machinery: reactor, mixing equipment,separation equipment, storage tank etc.
3> Pharmaceutical Machinery: vacuum ointment machine,sanitary stainless reaction pot,alcohol deposition can, collocation tank etc.
*Why Choose Jinzong Machiney?
1. More than 17 years in Cosmetic and cheimical industry
2. Quality, 80% materials and components are purchased from 3M, ABB, Siemens, Panasonic, Schneider
3. Good reputation in industry.
4.Have a Professional after-sales service engineering team
5.Large scale and strong strength