Hemodialysis Catheter (Single/double/Triple lumen)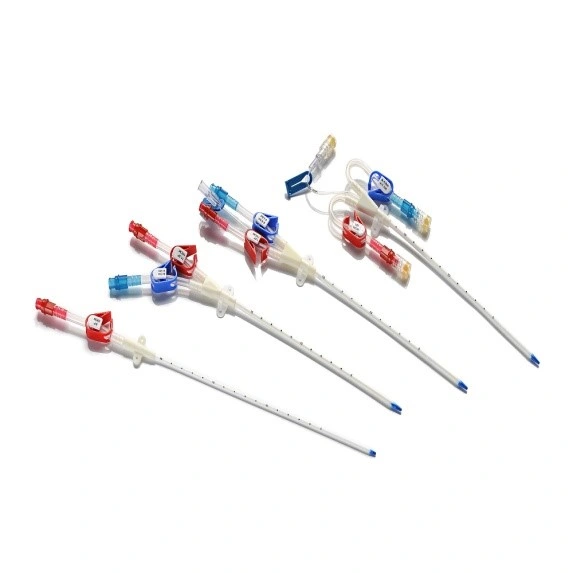 Brief Introduction
Hemodialysis catheter (DC catheter) accessories semi-finished products, CE mark
- The catheter adopts special grade medical grade polyurethane, which has excellent biocompatibility;
- The catheter becomes soft at 37 ºC, reducing the damage of the vascular intima;
- Model: single cavity, double cavity, three cavity;
- Specifications: 7F, 8F, 11.5, 12F (other specifications can be customized);
- Extension tube: TPU (straight / bent), silicone (straight / bent);
- Style and shape: molds can be customized according to customer requirements or drawings;
- One-stop solution can be provided.
Product Specification- Hemodialysis catheter
Type

Hemodialysis catheter

Instrument classification

Class II

Raw material

Medical grade biocompatible material, TPU

Lumen:

Single/Double/Triple

Size

8-12F/10-30cm

Color

blue & white

Application

Anesthesiology, ICU, CCU, Cardiac surgery, Oncology, Pediatrics

Supply Ability

100000 Piece/Pieces per Month

Packaging Details

Medical disposable Hemodialysis Catheter Single lumen, double lumen, triple lumen




1 bag 1 pieces
Company Introduction
Shenzhen ForU Meditech Co., Ltd. is a manufacturer of tubing-extrusion, added service value and OEM Service, which is specialized in R&D, production and samples of disposable surgical supplies medical equipment with "one-stop" solution for all customers.
Established in October 2013,located in Shenzhen, China, Kinca has focused on clinical medicine and the combination of modern engineering technology research and industrialization for years, The main products is tubing-extrusion with PU, PVC, PE, PA, Pebax, FEP, PP, POE, TPE, PC, Peek, and silicon medical grade materials, and also OEM service for Hemodialysis Catheter and accessories, Pressure Transducer ,Introducer Sheath ,The radial sheath set, Hemostasis y-connector (Hemostasis Valve set), Balloon Inflation Devices ,Angiographic syringes , Manifolds, Stopcock ,Dose- control Syringe, etc.
At present, we successfully obtained product trademark registration ,have obtained the domestic medical equipment production license, GMP standard medical equipment production workshop with 2000 square meters, the international standard purification lab equipped with perfect inspection system, including biological, chemical, physical and microbiological lab. Water purification equipment and a set of standard disinfection equipment, all kinds of professional cleaning ,injection molding, drilling, far infrared ,ultrasonic ,ethylene oxide sterilization and other production equipment ,complete , at all class III product production conditions . Production technology and effectiveness of the company's products have passed the European CE certification ,is now apply for domestic product registration certificate.