Place of Origin:Anhui, China Brand Name: TKmd
Model Number:TC1005A Disinfecting Type: OZONE
Properties:Injection & Puncture Instrument Size: 200ml,1ml,2ml,3ml,5ml,10ml,20ml,50ml,60mlEtc
Stock:No Shelf Life: 2 years
Material:PVC, PVC Quality Certification: CE
Instrument classification:Class II Safety standard: None
Product Name:Disposable 2 Parts Syringe Style: Normal,Insulin,Tuberculin,Irrigation Tip Etc
Packing:Polybag or Blister OEM: Available
Color:White Application: Hospital
Certificate:CE ISO Feature: Disposable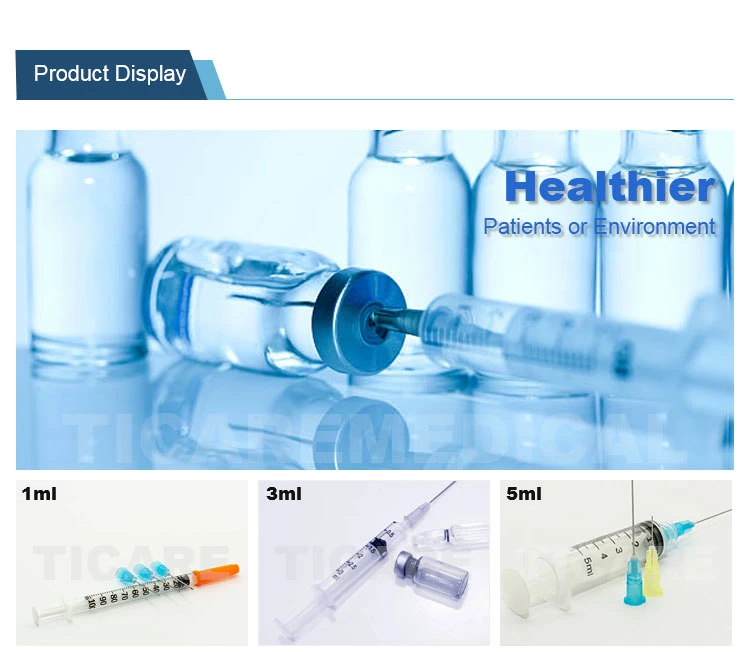 Luer lock (slip) syringe:0.05ml,0.1ml,0.2ml,0.3ml,0.4ml,0.5ml,U-100,
U-40,1ml,2ml,2.5ml,3ml,5ml,10ml,20ml,30ml,50ml,60ml,100ml
The Barrel is transparent enough to help easily observe the mixture and liquid flow
The indelible graduation makes the reading easy.
The distance between finger grips and barrel is according to the ISO standards, it can guarantee an easy grip.
1. Sterilized by EO gas, non-toxic, non-pyrogenic
2.Single use only.Don't use if package is damaged.
3.CFDA registered,CE,ISO certified
4. Be stored in dry,shady and cool, well ventilated place

Item code
YM-D011
Material
Medical grade PVC
Size
1ml,2/3ml,5ml,10ml,20ml,30ml,50/60ml
Parts
Two parts:barrel+plunger(with/without needle)
Three parts:barrel+piston+plunger(with/without needle)
Expire date
3 years
Store claim
store in dark,dry and clean conditions
Form of packing
1pcpolybag or 1pc/blister bag
Size of packing

1ml:3000pcs/48.5*40.5*43.5cm
2/3ml:3200pcs/61.5*48.5*38cm
5ml:2400pcs/61.5*48.5*38cm
10ml:2400pcs/61.5*48.5*38cm
20ml:1800pcs/61.5*48.5*38cm
30ml:1200pcs/61.5*48.5*38cm
50/60ml:800pcs/53*47.5.45.5cm