Injection Pump from China Electric Single Channel Syringe Pump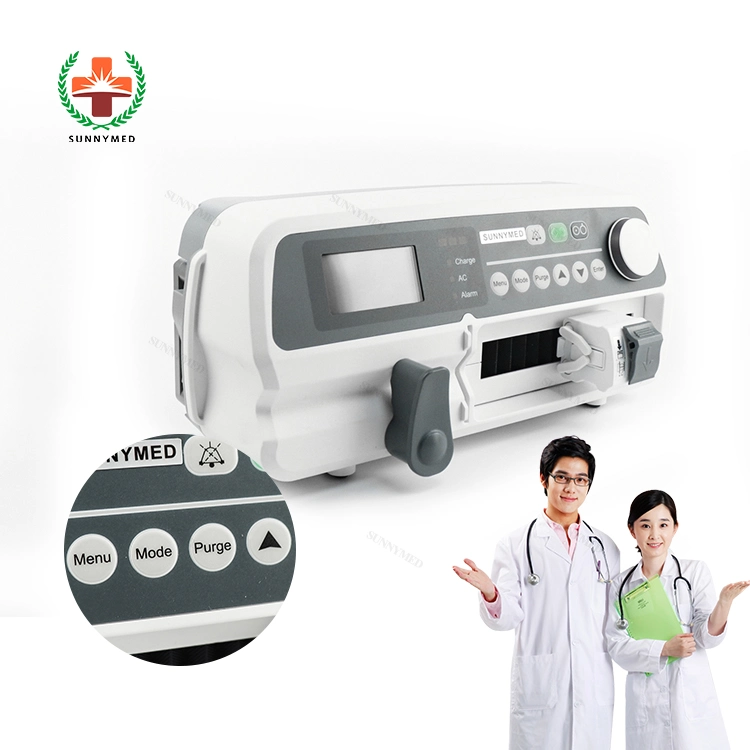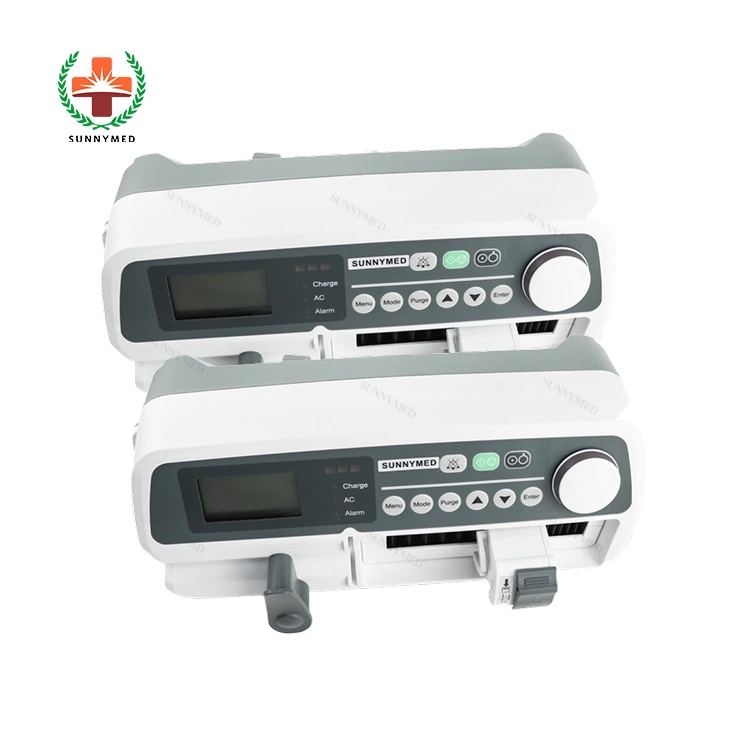 Technical Specifications:
Model

SY-G079-2 Syringe Pump

Syringe Size

10, 20, 30, 50 ml

Applicable Syringe

2 brands built-in (BD, B. Braun), 10 brands for user-defined

Volume

0.1- 9999 ml

<1000 ml in 0.1 ml increments

≥1000 mL in 1 ml increments

Flow Rate

Syringe 10 ml: 0.1- 400 ml/h

Syringe 20 ml: 0.1- 600 ml/h

Syringe 30 ml: 0.1- 900 ml/h

Syringe 50 ml: 0.1-1300 ml/h

<100 ml/h in 0.1 ml/h increments or decrements

≥100 ml/h in 1 ml/h increments or decrements

Bolus Rate

Syringe 10 ml: 400 ml/h

Syringe 20 ml: 600 ml/h

Syringe 30 ml: 900 ml/h

Syringe 50 ml: 1300 ml/h

Accuracy

±2%

Infusion Mode

Flow rate: ml/min, ml/h

Time-based

Body weight: mg/kg/min, mg/kg/h, ug/kg/min, ug/kg/h

KVO Rate

0.1 -1ml/h in 0.1 ml/h increments or decrements, adjustable

Alarms

Occlusion, syringe drop off, near empty, end program, low pressure, end battery, AC power off, motor malfunction, unattended pump, syringe moved accidently, pressure sensor error

Additional Features

Syringe identification, bolus, real-time shift totals, occlusion pressure release, mute, automatic power switching, residue reminder, system memory

Occlusion Sensitivity

High: 0.02-0.06 Mpa

Medium: 0.06-0.09 Mpa

Low: 0.09-0.12 MPa

Power Supply, AC

110/230 V (optional), 50/60 Hz, 20 VA

Battery

9.6 ±1.6 V, rechargeable

Battery Life

5 hours at 5 ml/h

Working Temperature

5- 40°C

Relative Humidity

20-90%

Atmospheric Pressure

860-1060 hpa

Size

314*167*140 mm

Weight

2.5 kgs

Safety Classification

Class II, type CF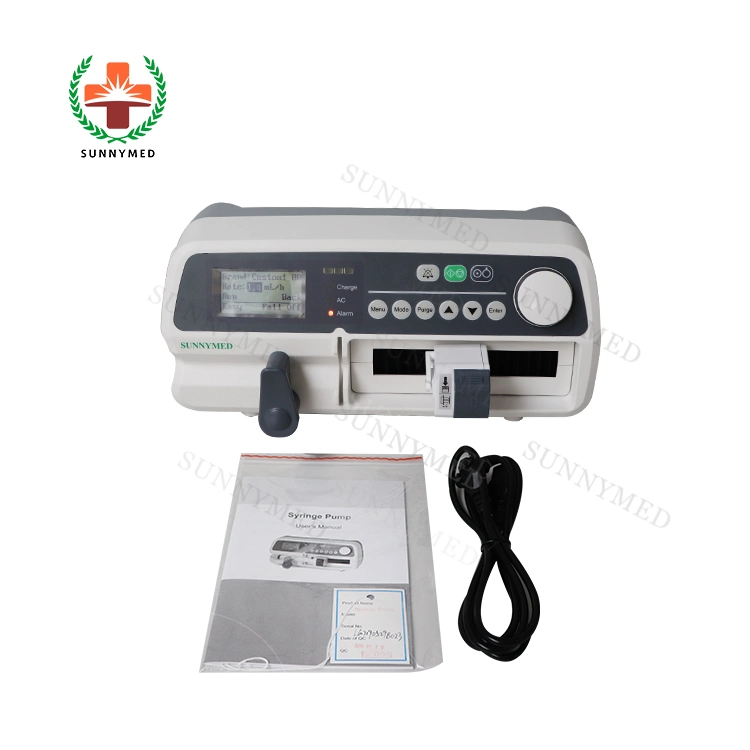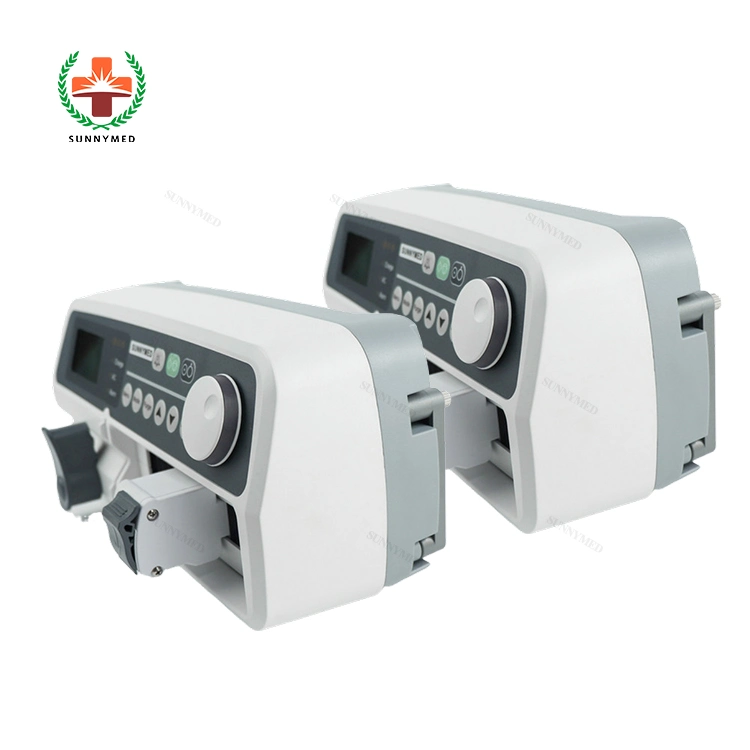 WHY CHOOSE US:
1. For all your inquires about us or our Syringe Pump we will reply you in detail within 24 hour

2. We own professional team have professional attitude to recommend products and services, introducing the Syringe Pump for you.

3. Our Syringe Pump have various type and function , We will recommend to you that according to your requirements ;

4. We offer OEM services. Can print your own logo on the Syringe Pump

5. We have very experienced engineers, can help you better use our Syringe Pump
Your satisfaction is our duty! It will be our great honor to serve you. We do hope we can offer you more help in medical field and build the long term business relationship with you.
Our Advantage:

1. Top Quality: We have strict quality control system and enjoy good reputation in the market.
2. Excellent Service: We treat clients as friend and aims at building long term business relatiionship.
3. OEM Accepted : We Can print your own logo on the products.
4. Unbeatable Price: We always ensure high price performance to benefit our customers.
5. Timely Delivery: Your order shall be shipped once finished .